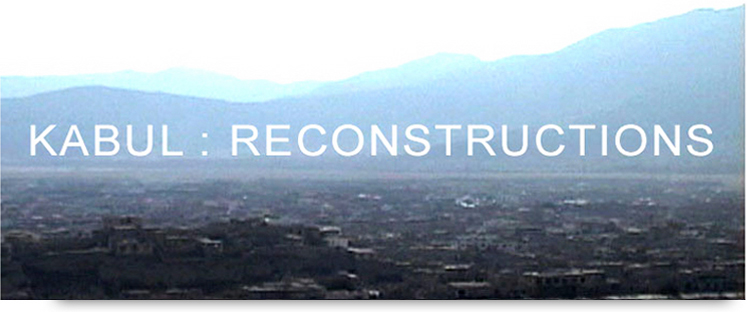 Kabul:Reconstructions is an interactive documentary and public dialogue project that documents the post-conflict reconstruction of the city of Kabul at one-year intervals from the winter of 2002 to the winter of 2004. Along the way, it offers both an insider's perspective on the back-room politics of critical moments in the reconstruction and an outsider's perspective on the changing surface and structures of the city. Archived versions of the first two sections of the project, which were active from March 2003 to March 2005, track media coverage of the reconstruction and contrast it to information passed along Afghan diasporic networks in response to questions from site visitors. The third and fourth sections of the project, which focus on the Afghan constitutional assembly and the first national popular election, present visitors with video from behind and around the political scenes, analytical audio and video interviews, and a series of questions about the implications of the architectures of democracy proposed and promoted through the reconstruction efforts during that window of possibility which now seems to be closing.
Kabul:Reconstructions was created by artist Mariam Ghani with the collaboration of programmer Ed Potter and the support of Exit Art, Eyebeam Atelier, Akademie Schloss Solitude and the University of Illinois at Urbana-Champaign. This website was originally launched in 2003 and re-launched in 2008. Some content is still being added to the third and fourth sections.
To access all of the content on this site, you will need a browser with scripting and pop-ups enabled, a fast connection, and the latest version of QuickTime Player (a free download here) or the VLC Media Player (a free download here). All four sections of the site have some content that can be accessed on low-speed connections.
&nbsp