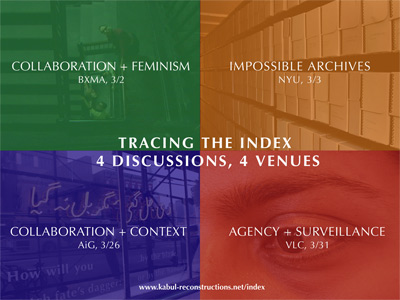 ROUNDTABLE 4: AGENCY + SURVEILLANCE
Monday, March 31st, 6:30 pm
The New School, Theresa Lang Center

55 West 13th Street, 2nd floor
Presented by the Vera List Center for Art + Politics at the New School
Admission: $8, free for all students and New School faculty, staff and alumni with valid ID
Description:
This discussion examines issues of agency in surveilled space - who can watch, who is only watched, who defines which spaces are visible to the camera and which are effectively invisible, and how artists, activists and engineers can intervene in surveillance systems to subvert, invert, and redefine these relationships. Participants include artists and activists who work with the principle of "sousveillance" - surveillance from below, or watching the watchers (extending ideas explored in the Rhizome panel at the 2007 Conflux festival); artists and engineers who collaborate to produce software and hardware applications which access and visualize bodies of data usually obscured from public view; artists whose projects have questioned the rhetorics of surveillance by intervening more playfully in the expected aesthetics or power dynamics; and activists who monitor post-9/11 surveillance by intelligence agencies and its effects on immigrant and dissenting communities.
Logistics:
Directions: See the New School site for a comprehensive listing of the many, many subway lines convenient to this venue. Tickets: In-person purchases can be made at the event, or ahead of time at the New School Box Office at 66 West 12th Street, main floor, Monday to Friday 1:00 to 7:00 p.m. Ticket inquiries can also be sent to boxoffice@newschool.edu or 212.229.5488. Event Information: 212.229.5353, specialprograms@newschool.edu, or online.


PARTICIPANTS
Tad Hirsch / Institute for Applied Autonomy
Tad Hirsch is a researcher and PhD candidate in the Smart Cities Group at MIT's Media Lab, where his work focuses on the intersections between art, activism, and technology. He is also a 2005-7 graduate affiliate at the Center for Advanced Visual Studies. He has worked with Intel's People and Practices Research Group, Motorola's Advanced Concepts Group and the Interaction Design Studio at Carnegie Mellon University, and has several years experience in the nonprofit sector. Tad is also a frequent collaborator with the Institute for Applied Autonomy, an award-winning arts collective that exhibits throughout the United States and Europe. He publishes and lectures widely on a variety of topics concerning social aspects of technology, and has received several prestigious commissions and awards. Tad holds degrees from Vassar College, Carnegie Mellon University and the Massachusetts Institute of Technology. The Institute for Applied Autonomy (IAA) was founded in 1998 as a technological research and development organization dedicated to the cause of individual and collective self-determination. Their mission is to study the forces and structures which affect self-determination and to provide technologies which extend the autonomy of human activists. www.appliedautonomy.com [screenshot from IAA's iSee project]
Anjana Mahotra
Anji Mahotra is a human rights lawyer who frequently works with clients subject to deportation and false charges stemming from surveillance. As the 2004 Aryeh Neier ACLU/Human Rights Watch Fellow, she created a documentation project around the abuse of material witness warrants that chronicled many of these individuals' experiences, leading to her co-authoring the report "Witness to Abuse" (available here). She has also monitored these issues on a broader scale and worked on legal theories and cases to challenge unlawful detention, surveillance and other post 9/11 programs.
Jenny Marketou
Jenny Marketou, born in Athens, Greece, is a Brooklyn-based artist who works with video, installations, internet, performance, photography and public dialogue. She was invited to represent Greece in the Sao Paulo Biennial and in Manifesta 1. Currently her work has been exhibited at Anita Becker's Gallery in Frankfurt-Main; 1st Biennial of Thessaloniki, Centre of Contemporary Art Greece; The Breeder Gallery in Athens; Laboral Centre for Art and Creative Industries Gijon, Spain; The Black Box/ARCO 06 in Madrid; ZKM Centre for Art and New Media in Karlsruhe; The Rose Art Museum, Brandeis University, Boston; The Krannert Art Museum, in Urbana-Champaign, Illinois; Sammlung Essl in Vienna; Kunsthalle Düsseldorf in Germany; The New Museum of Contemporary Art, New York, N.Y; Reina Sofia, Museum of Contemporary Art, Madrid; The Edith Russ House for New Media in Oldenburg; and Diverse Works in Houston, Texas among others. Her collaborative web-based and public art projects have been commissioned by ZeroOne/ISEA 06 in San Jose, CA; Cornerhouse Gallery and FutureSonic01 Festival in Manchester, UK; The Banff Centre for the Arts in Banff, Canada; DIE ZEIT German weekly and ART+ IDEA in Berlin, Germany. She has received awards and residencies from EYEBEAM, New York; the Mid-Atlantic Arts Foundation; ART OMI, Hudson New York; Ateliers Hoherweg in Düsseldorf, Germany; MECAD in Barcelona, Spain; Institute for Studies in the Arts, ASU in Tempe, Arizona. She holds an MFA from the Pratt Institute in Brooklyn and teaches at Cooper Union in New York City. www.jennymarketou.com
[image: Jenny Marketou and her Flying Spy Potatoes at The Breeder Projects Gallery in Athens, 2003]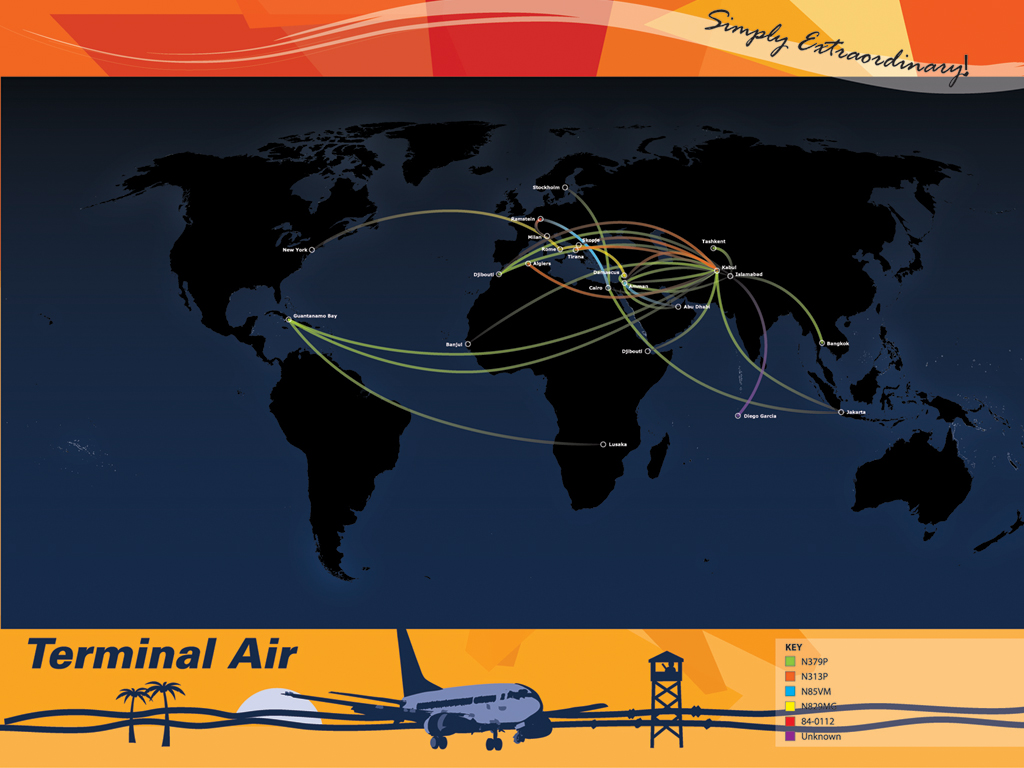 Trevor Paglen
Trevor Paglen is an artist, writer, and experimental geographer working out of the Department of Geography at the University of California, Berkeley, where he is currently completing a PhD. His work involves deliberately blurring the lines between social science, contemporary art, and a host of even more obscure disciplines in order to construct unfamiliar, yet meticulously researched ways to interpret the world around us. His most recent projects take up secret military bases, the California prison system, and the CIA's practice of "extraordinary rendition." Paglen's artwork has been shown at the Chicago Museum of Contemporary Art (2003), the California College of the Arts (2002), MASSMOCA (2006), Halle 14 - Stiftung Federkiel (2006), Diverse Works (2005), and numerous other arts venues, universities, conferences, and public spaces. paglen.com
[image: route map from the Terminal Air website, by Trevor Paglen and IAA]
Brooke Singer
Brooke Singer is a digital media artist who lives in New York City. She is interested in emerging technologies not only because they are fun but also because they are contingent and malleable. She has utilized wireless communications (Wi-Fi, mobile phone cameras, RFID) to initiate discussion and positive system failures. Her work seeks to provide public access to important social issues that often are characterized as specialized or opaque. She is currently Assistant Professor of New Media at Purchase College, State University of New York, and co-founder of the art, technology and activist group Preemptive Media. www.bsing.net
[image: Preemptive Media's Zapped! RFID detector keychain circuit board, San Francisco, January, 2005]
Moderator: Lex Bhagat
Alexis Bhagat is a writer, sound artist and activist. He is the co-editor (with Lize Mogel) of An Atlas of Radical Cartography, to which several of the Agency + Surveillance panelists contributed as mapmakers and/or essayists. Mogel and Bhagat also organized the traveling exhibition An Atlas, which brought together artists working in radical cartography, the practice of using maps and mapping to promote social change. The exhibition was presented at Firehouse 13 in Providence and LACE in Los Angeles in 2007, and will continue on to Gallery 400 in Chicago, Redhouse Gallery in Syracuse, the Gallery of the College of New Jersey, and the Storefront for Art and Architecture in New York in 2008. He is also the co-editor (with curator Gregory Gangemi) of Sound Generation, a collection of interviews with contemporary sound artists and composers (Autonomedia, 2007), and has organized concerts, discussions and "listening lounges" of sound art and phonographic work in New York (Aspects of Jupiter, 2004), Japan (Sound Art and the Street, 2002), Vermont (The Voice of Authority and the Soundscape of Unfettered Being, 2005) and Delhi, India (Sound Art in New York, 2006.) Since 2002, he has been a director of the Institute for Anarchist Studies, a grant-giving body supporting radical writers, and regularly writes a column On Words and Revolution for their journal, Perspectives. www.nadalex.net