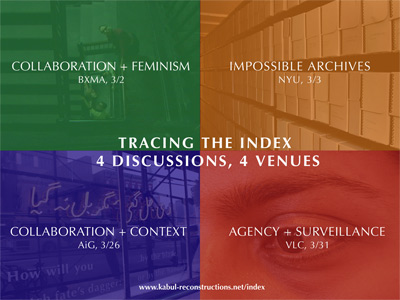 ROUNDTABLE 2: IMPOSSIBLE ARCHIVES
Monday, March 3rd, 5:30 pm
Kevorkian Center, NYU

Sullivan Street at Washington Square South, ground floor library
Admission: FREE
Seating is limited and available on a first-come, first-served basis.
Description:
This roundtable will explore legal, historical, professional and artistic strategies for archiving impossible (unspeakable, unutterable, censored, undocumented, disappeared or disappearing) materials. We will discuss the role of artists and activists as archivists of unofficial or suppressed histories; the various manifestations of archive fever; and the relationships between witnesses, testimony, memory and archives.
Directions:
Take A/B/C/D/E/F to West 4th Street or N/W to 8th Street. Walk towards Washington Square Park. The Kevorkian Center is the granite building on the corner of Sullivan and Washington Square South (aka West 4th Street).



PARTICIPANTS
Orit & Tal Halpern
Orit Halpern is a historian of science who completed her Ph.D. at Harvard University. During a postdoctoral fellowship at Duke University's Franklin Institute, she began work on a genealogy of interactivity, which explores the relations between temporality, perception, and representation in scientific and aesthetic practices in the second half of the 20th century. An excerpt from that work, "Dreams for Our Perceptual Present," will appear in the Winter 2007 issue of Configurations. Since fall 2007, she has been an Assistant Professor in the Department of Historical Studies at the New School in New York City.
Tal Halpern holds an MA in Literature from Columbia University, has published hypertext works through the Electronic Literature Organization, and has also developed electronic publishing networks in South Asia and the United States. His work has been commissioned by Turbulence.org and appeared in the Iowa Review Online and Sundance Film Festival Online 2006. He was a 2007 NYFA Computer Arts Fellow.
Orit and Tal's collaborative work as new media artists building experimental archives and databases has been presented internationally. They also wrote together the electronic texts "Chromosome 22," published through C-Theory, and "Archiving Nature: Preservation Practices for the Digital Age," which debuted as a museum installation in the exhibition Iconoclash at the ZKM in Karlsruhe, Germany.
[screenshot from Orit & Tal Halpern's web-based project Archiving Nature]
Leslie Hewitt
Leslie Hewitt received her MFA from Yale University in 2004 and her BFA from the Cooper Union for the Advancement of Science and Art in 2000. She was a Clark Foundation fellow and attended New York University studying Africana Studies, 2001-2003. She is a participant in the Artist Pension Trust (New York). She has held residencies at Aljira: A Center for Contemporary Art, the Skowhegan School of Painting and Sculpture, and the CORE program, Museum of Fine Arts Houston, Houston, TX. She has exhibited at the Bronx Museum of the Arts, New York, Studio Museum in Harlem, New York, Sculpture Center, New York, Rush Arts Gallery, New York, the Wadsworth Atheneum, Hartford and LAXART, Los Angeles. In 2007 her exhibition Replica Of A Lost Original was presented in the project room at Artists Space, New York. Hewitt's work is in the collection of the Museum of Modern Art, New York, and she is currently an artist in residence at the Studio Museum in Harlem. In collaboration with William Cordova, Leslie has developed I wish it were true, an evolving archive of bootleg independent/alternative films central to representing Black and Latino consciousness within the canon of cinema.
[image: Leslie Hewitt's Untitled(Refraction), photographic documentation of a temporary collage, 2006]
Ramzi Kassem
Ramzi Kassem is currently a Robert M. Cover Clinical Teaching Fellow at Yale Law School, where he co-teaches the Balancing Civil Liberties & National Security After September 11 Clinic, supervising students working on civil liberties cases arising out of government policies in the aftermath of September 11, including citizen and non-citizen detentions, Fourth and Fifth Amendment issues, and international human rights and humanitarian law issues. Mr. Kassem previously served as an Adjunct Professor of Law at Fordham University School of Law, where he co-taught the International Justice Clinic that represents Guantánamo Bay detainees, and he continues to represent several of those detainees today. As a Civil Rights Fellow at Cochran Neufeld & Scheck, Mr. Kassem litigated high-impact cases stemming from wrongful convictions and police misconduct. He is also a legal consultant for the International Center for Transitional Justice in New York City. He is a graduate of Columbia Law School and Columbia College.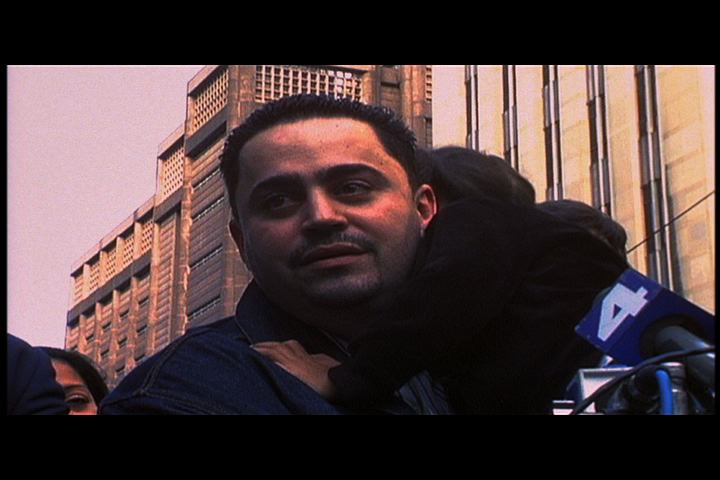 Althea Wasow
Althea Wasow is a New York-based independent writer and filmmaker. Her work has focused on the experiences of outsiders and cultures of crime and punishment. Her film The Wannabe is based on the true story of a young man who told another man's crime story as his own and was wrongfully convicted. It won the Best Short Film Award at HBO's New York International Latino Film Festival and has screened internationally at over 40 film festivals. Althea has collaborated on photography books, documentary films and new media projects including: An American Index of the Hidden and Unfamiliar (Co-Writer and Senior Editor), Rikers High (Co-Producer), The Autobiography of Malcolm X Multimedia Study Environment (Assistant Editor), The Innocents (Producer and Project Editor), and The Mark of Cain (Associate Producer). She participated in the formation, and serves as a board director, of the nonprofit organization the Center for Urban Pedagogy (CUP). She obtained her MFA at Columbia University School of the Arts and her BA at Brown University. altheawasow.com [image: film still from The Wannabe, showing David Lemus's release from prison]
Martha Wilson
Performance artist Martha Wilson is Founding Director of Franklin Furnace Archive, Inc., a pioneering alternative space that since 1976 has presented and preserved temporal art, including artists' books and other multiples produced internationally since 1960; temporary installations; performance art; and live art on the internet. Trained in English Literature, Ms. Wilson became fascinated by the art field in which text and image intersect while teaching at the Nova Scotia College of Art and Design. As an artist, she has performed in the guises of Alexander Haig, Ronald Reagan, Nancy Reagan and Barbara Bush, and with the all-girl group DISBAND; presently she is impersonating Tipper Gore. Ms. Wilson lectures widely on the book as an art form and on performance art. In January 1998 she edited a special issue of the College Art Association's "Art Journal" on the subject of performance art, and from 2003 to 2006 she guest edited feature sections in Leonardo on live art on the Internet. www.franklinfurnace.org / www.marthawilson.com
[Image of the Ana Mendieta file in Franklin Furnace's archive]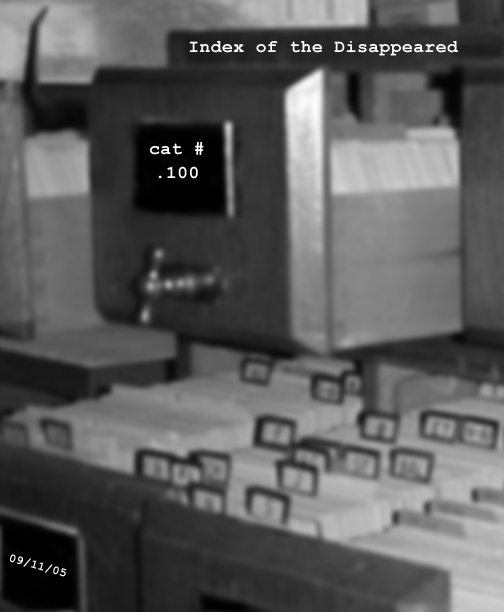 Moderators: Chitra Ganesh + Mariam Ghani
Mariam Ghani's work in video, installation, photography, new media, performance, text, and public dialogue has been exhibited, screened, and published internationally. She is a NYFA and Soros Fellow, has been an artist in residence at LMCC, Eyebeam Atelier, Smack Mellon, and the Akademie Schloss Solitude in Stuttgart, and has received grants and commissions from the Experimental Television Center, the Mid-Atlantic Arts Foundation, Turbulence and the Longwood Digital Matrix. She has a B.A. in Comparative Literature from NYU and an MFA from SVA, lives in Brooklyn, and teaches in the Department of Art, Music & Technology at Stevens in New Jersey. www.kabul-reconstructions.net/mariam
Chitra Ganesh's drawings, installations and comic books have been exhibited internationally, including recent solo shows in Zurich, Torino and New York, and site-specific projects at the Queens Museum, Bronx Museum, Asia Society, Berkeley Museum, Fondazione Sandretto, and ZKM. She received a BA from Brown University, an MFA from Columbia University, and awards and residencies from LMCC, AAI, Skowhegan, the Henry Street Settlement, the CAA Professional Development Fellowship, and the Astraea Visual Arts Fund. Ganesh also served as a Board Member of the South Asian Women's Creative Collective (SAWCC).
Since 2004, Ganesh + Ghani have collaborated on the project Index of the Disappeared, which is both a physical archive of disappearance and a mobile platform for public dialogue. [image: cover of the Index 'zine distributed at LMCC's Cities, Art & Recovery conference, September 2005]